Next start date: Monday May 3
Why Reset After Work?
This program is made for people who want to work on themselves, but cannot or do not want to stop working. During your consultation you indicate that you are experiencing problems, that you feel the consequences of your addiction and / or behavior and that you need help because otherwise things will go completely wrong. You want an intensive program.
Who is this program for?
Anyone who has a problem with alcohol, drugs and / or other type of behavior and wants to work on it. This could mean that you are addicted or possibly a problematic user and want to do something about it. Willingness (wanting to change) is certainly necessary if you want to follow this program.
In addition, you want and can take three evenings a week off for eight weeks.
How does this program work?
The After Work program starts on a fixed date and with four to six participants. During eight weeks you will go through the process together with your group. Group dynamics are very important in the recovery process. Recognition and recognition play a major role in this.
We opt for a small group so that we can guarantee safety, discretion and a personal approach.
You invest three nights of your week in your recovery. Every evening will look different in terms of content, times are the same. This for eight weeks.
An evening could look like this:
18 pm: reception + snack
18 pm: group
19:35 pm: break
19 pm: lecture (education)
20 pm: explanation of assignments + discussion
21 pm: end
You will also receive assignments from your practitioner during these eight weeks. You will also follow support groups with fellow sufferers to get to know other people.
At the end of your first month, an evaluation of your process will follow. Then the goals that were set during the first individual meeting can be adjusted. These goals become the common thread of the treatment. Creating change is taking action and doing things that are outside of your comfort zone.
What will I learn in those eight weeks?
Gain insight into your problems and how to break the pattern.
Mapping your addiction cycle.
Tools for dealing with negative feelings.
Handles to better handle difficult situations.
Relapse prevention techniques.
What after those eight weeks?
At the end of this program you have laid the foundation for a fresh start. From this process there will be an action plan that you have to work with. We take a look at it together and put you on the way to the next step. After this process you also get access to our aftercare group that meets every Saturday morning at Reset.
Can my family receive guidance during my journey?
At Reset, the family is never left out in the cold. At the start of the guidance, the family receives a lecture to explain our workings and addiction and what to expect during the process. You can also choose a program for your partner and / or family.
A good recovery starts with you, but if the family is with you, it can only have long-term benefits.
What qualities does the team I will be working with have?
Honest
Warm and understanding
Transparent & clear
Direct
Empathetic
At Reset we have one goal: that you will feel better again and can break through your patterns. We are next to you in this sometimes very difficult process. Sometimes the truth does hurt and it must be said. Always with love.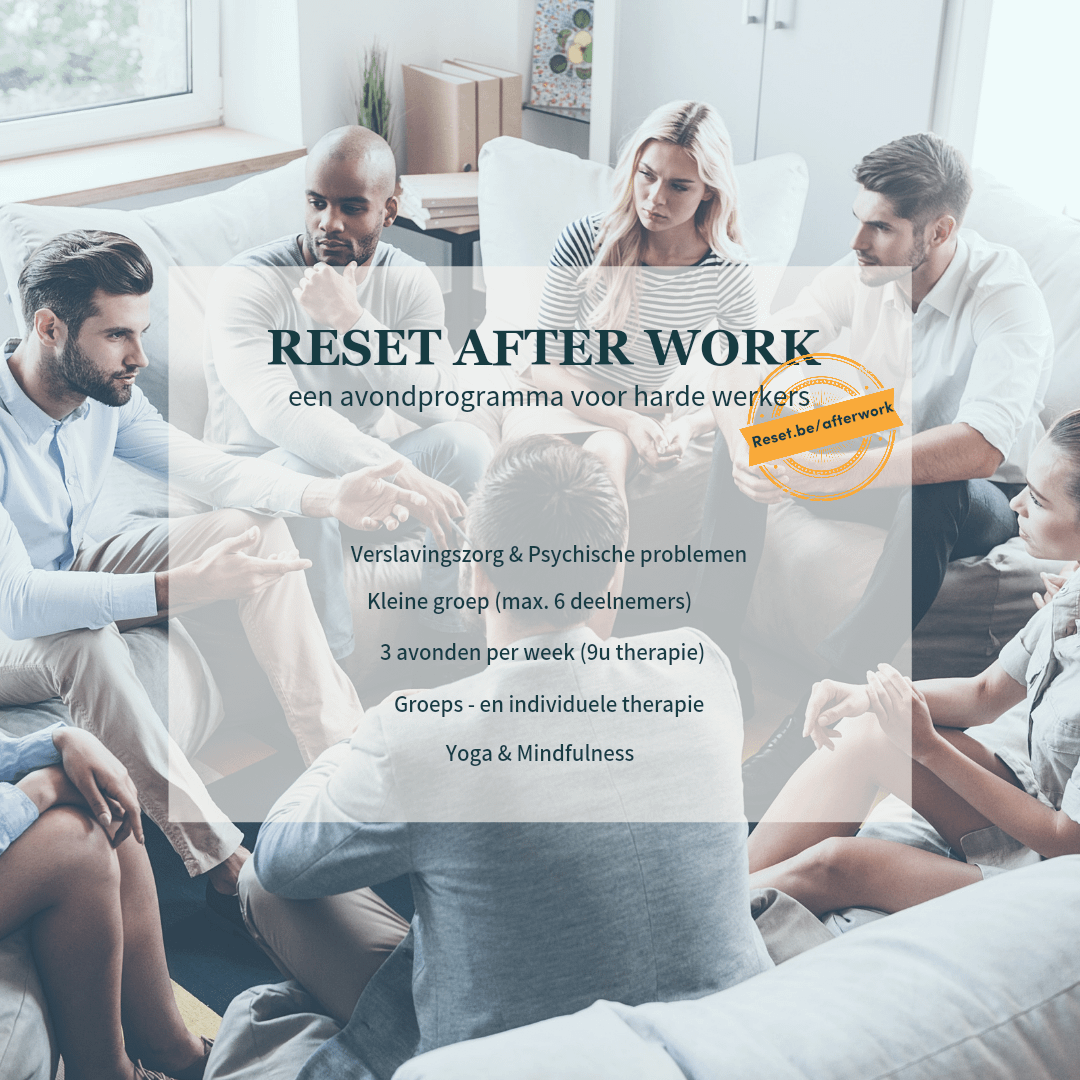 What now
To start, we would like to meet you during an introductory meeting. It is important in this conversation to get clarity about your problems. Everyone who starts in the program receives a personal plan.
You can email us via the Contact form .
You can do us too dial of course.